Accessories
Okay so you've looked at the vans for sale, had a think about the finance, now it's time to personalise your van
Ply Lining
Most of our used vans for sale are already ply lined but Ply Lining your new van makes perfect sense. By fitting a ply lining kit you immediately add resale value to your vehicle. It will stop internal damage caused by shifting loads and at resale the initial cost of ply lining is recovered as much as 10 times over.
The kits are made from the very best quality Birch plywood. Ply lining includes floor, sides, side door, rear doors and wheel arches.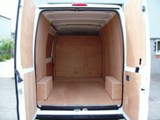 Roof bars / rear ladder rollers
Roof bars are 50mm x 30mm x 1.5mm thick stainless steel cross members and powdercoated galvanized steel clamp brackets. It has a floating rear bar sitting on the roof with a rubber pad.The roller is full width and is made from stainless steel tube running in nylon bearings for smooth rotation. Mounted on pre galvanised polyester powdercoated steel brackets.



Roof racks
These can either be constructed from 50mm x 30mm x 1.5mm thick stainless steel cross members and powdercoated steel brackets.
Or we can custom build a roof rack to your exact requirements - please call to discuss.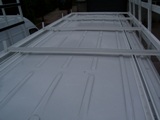 Rear door ladders
Made from pre galvanized steel then black polyester powder coated to give many years of service.
The latest design has aluminum tread plates to provide the sure footedness you need.

Frame and Glass carrying frails
Due to the specialist specification of carrying of frames and glass please contact us to discuss your exact requirements of your glazing van or glass carrying van.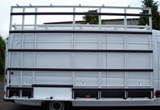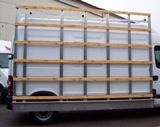 Sign Writing
Sign writing to help promote your business. Signs can range from simple company names and contact details to 3D logos and digital pictures.
Mobile Phone Kits
Through car speaker latest Bluetooth kits from Nokia, Sony and Parrot.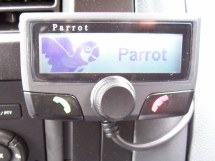 Satellite navigation (Sat Nav)
Dedicated in dash SatNav systems and portable SatNav from the likes of Mio and Becker
Tow Bars
We can fit tow-bars to most vehichles. As standard we fit products from the market-leading brand - Witter Tow-bars with their unique guarantee.
Where a special tow-bar is required, we fit products from other leading manufacturers such as Brink, Dixon-Bate and Witter.
Complete with single or twin electrics or 13 pin electics.

Pipe Carriers
High quality pipe carriers are all made from anodised aluminium. End caps are cast aluminium & both ends are lockable (Pad locks supplied).



Tool Boxes
Available for all types of commercial vehicle. Purpose made to suit your needs - please call to discuss.



Flettner air vents
Genuine Flettner Air Vents with internal shutter control available in Black or White.
Window blanks / grills
Purpose made to suit each vehicle - generally available as a grill or a full blank. Please contact us to discuss options for your vehicle.
Bulkheads
You can either have a manufacturer supplied bulkhead or an aftermarket bulkhead made from high quality 1.6mm thick mild steel zinc coated and then powdercoated in black or white.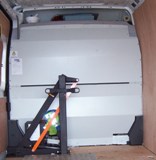 Lockable parcel shelf
Only available on the Ford Transit Medium and High roof's.
Beacons / light bars
Full range of beacons and light bars from single flashing beacons to full width light bar.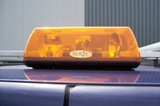 Styling
Seat Covers
Keeping your seats clean will become a thing of the past, not only will they save you £££'s, but will also help to retain the value of your van. When grubby simply machine wash at 40 degreesC.
- Waterproof
- 4oz PU coated nylon
- Ideal for dogs, children and workmen!
- 3 headrests,3 inertia seat belts
Spot Lights
Hella and PIAA. Designed to help you see more in the dark and they look good too!
Alarm / immobiliser
Thatcham Cat 1 alarms, Thatcham Cat 2 to 1 alarm upgrades, Cat 2 immobilisers and Non Thatcham alarms. We can arrange for the new alarm system to work from your original remote.
Tracker systems
All brand name tracking systems including MetaSat and Tracker We also carry fleet management systems such as Toad Actra.
Truck tops
Full range available -
SMM High Quality Steel Hardtops.
Luxurious and strong with options including spoiler, third high level brake light, heated rear window, pull door handle(s) or twist handle, lockable, dark tinted safety glass, roof bars, sliding side windows, solid sides and courtesy light.
With so many options available please be sure you let us know what you need.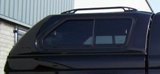 Window tinting
For security or just to enhance the look.
Vehicle insurance
We've recommend A-Plan insurance to a lot of our customers and in the majority of cases A-Plan can help save them money.
Why not follow the link and see if they can save you money?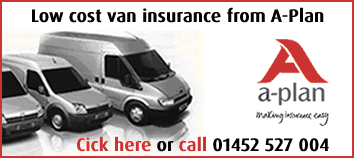 For all your requirements please contact one of the Team in Bridgend now on 01656 86 79 80